Gender Analysis Framework
A gender analysis framework (GAF) provides a structure for organizing information about gender roles and relations. Figure 1 is one example of a GAF. It provides a way to systematize information about gender differences across different domains of social life, and to examine how these differences affect the lives and health of men, women, boys, and girls.
Other gender analysis frameworks are structured similarly but may vary the grouping of content and labels for the domains. Some examples include: Canadian International Development Agency (2007); Danish International Development Agency (2008); Food and Agriculture Organization Socioeconomic and Gender Analysis; (Liverpool School of Hygiene and Tropical Medicine (1995).
FIGURE 1 – THE GENDER ANALYSIS FRAMEWORK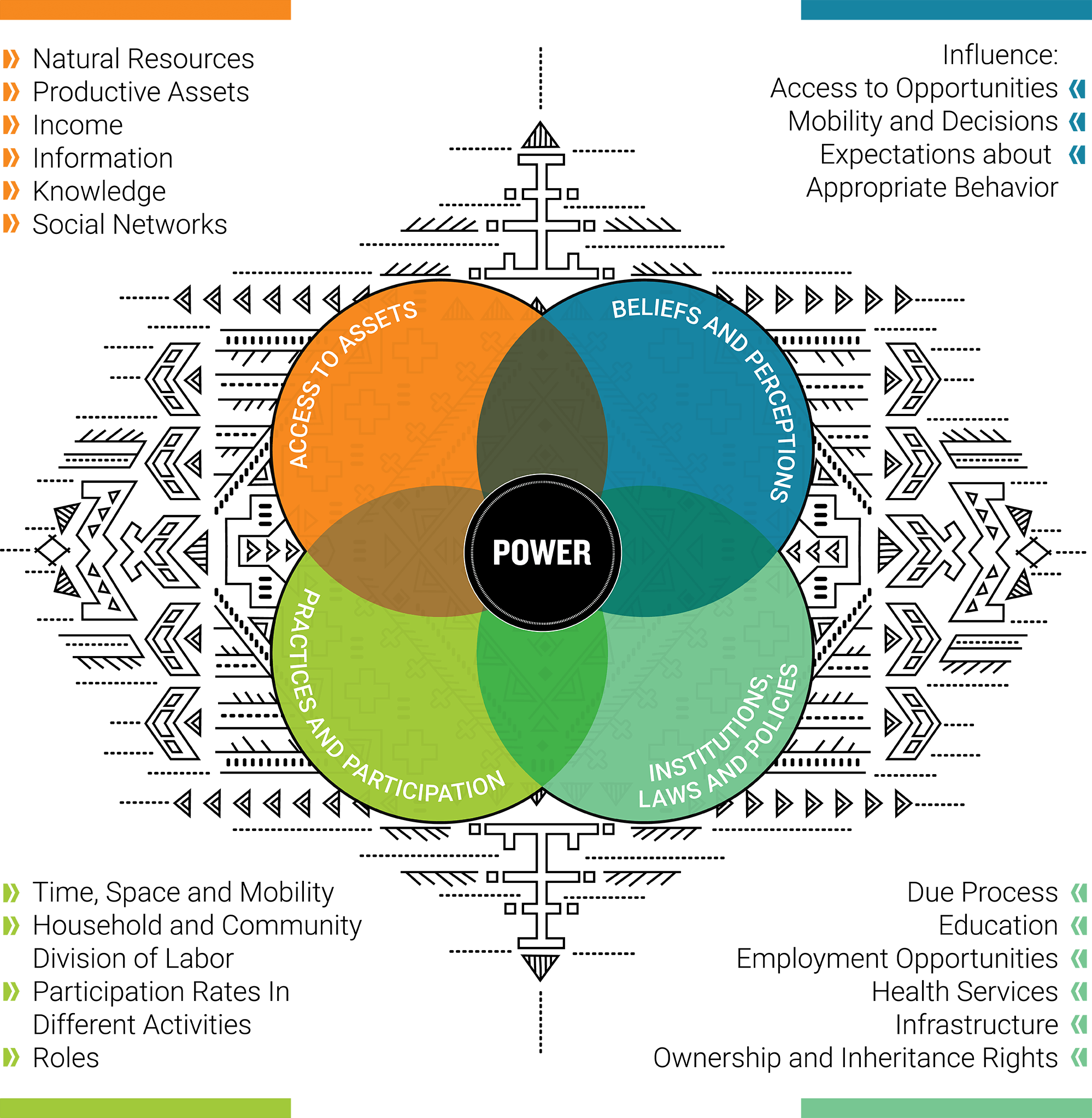 THE FOUR DOMAINS OF THE FRAMEWORK RELATED TO DIFFERENT ARENAS OF SOCIAL LIFE:
Access to Assets:
Includes information on gender relations that affect access to the resources necessary for a person to be a productive participant in communities and nations. These include tangible assets such as land, capital, and tools, and intangible assets such as knowledge, education, and information.
Practices and Participation:
The norms that influence men and women's behavior also structure the type of activities they engage in and their roles and responsibilities. This dimension of the framework captures information on men and women's different roles, the timing and place where their activities occur, their capacity to participate in different types of economic, political, and social activities, and their decision-making.
Beliefs and Perceptions:
Draws from a cultural belief system or norms about what it means to be a man or woman in a specific society. These beliefs affect men and women's behavior, dress, participation and decision-making capacity. They also facilitate or limit men and women's access to education, services, and economic opportunities.
Institutions, Laws, and Policies:
This dimension focuses on information about men and women's different formal and informal rights, and how they are dissimilarly affected by policies and rules governing institutions, including the health system.
Power:
Pervades all domains– it informs who has, can acquire and can expend the authority to acquire and expend assets. It affects decisions over one's body and children. It determines if an individual can take advantage of opportunities, can exercise rights, move about and associate with others, enter into legal contracts, and run for and hold office. Power also determines the way men and women are treated by different types of institutions, policies, and laws. The way in which people are treated forms an important part of what it means to be socially marginalized and disempowered. Providers' discriminatory attitudes, for instance, reinforce and deepen inequalities. Providers, particularly lower-level women providers, may also experience discrimination and mistreatment in their workplaces, as a result of gendered hierarchies.
Next Section: SEVEN STEPS TO A GENDER ANALYSIS >